5th Annual Hog-A-Paloooza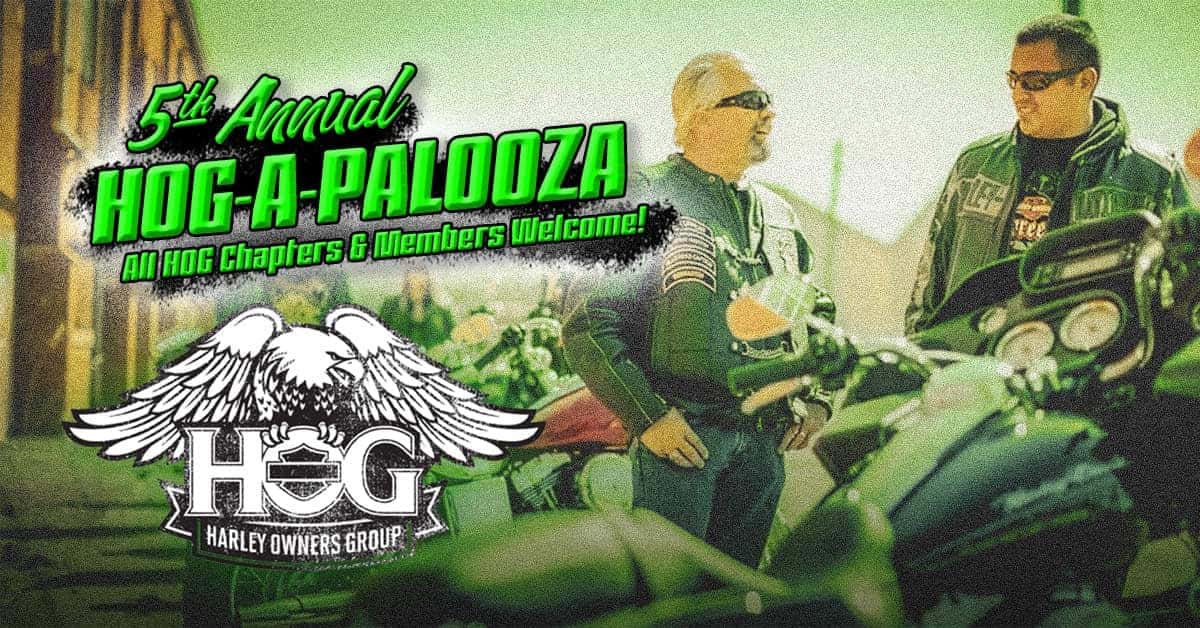 5th Annual Hog-a-paloooza
CALLING ALL HOG CHAPTERS / MEMBERS!
Learn More About the Ride Here: https://eastvalleyhog.com/
---
– NOTES FROM THE PRESENTERS –
"This event has brought over 300 HOG members from 4 different states and 15 plus different chapters. This year we look to host as many as 400 members. We, East Valley HOG, created this event to celebrate our love for riding Harley's and to fellowship with other brothers and sisters of HOG and just ride and have some fun. We miss getting together with you all.
Here is the day‼️‼️
This event will be from 9am to 4pm at Desert Wind Harley-Davidson in Mesa Arizona, East Valley HOGs sponsoring dealership. This event is sponsored by DWH-D and EVHOG. It is a FREE event for all.
We will have a poker run this year. That our Director Lee Hahn will coordinate along side working with Don with Superstition HOG Chapter #3774 to make an amazing ride.
We will have amazing Bike games, chapter Vs. Chapter with Devin and his team from HOG 93
Other chapter Vs. Chapter entertainment to be announced soon.
We have Tucson HOG stepping up and running the Bike show this year. They did an amazing job last year!
We have Pacific Coast HOG from hunting Beach California handling our Chapter Helmet competition again. YES!!!
We have over 40 amazing Raffle prizes run By our EVHOG team Lora Flory and Mike!
We are working on Silent Auction
We will have over 20 vendors this year some you have seen before and some new. Watch for the list of amazing vendors put together by Tom Lunnen and team from EVHOG!
4 amazing Food rucks coordinated by Daniel Acosta of EVHOG!
LIVE Music by a kickass band.
Registration Fri and Sat handled by Ocean Lendzion of EVHOG!
50/50 raffles Fri and sat handled by Larry and Colleen of EVHOG
HOG-A-PALOOOZA patches and we are looking to add new items to buy this year. Watch for the announcement coming soon.
There will be a charity event as well!
Who will take home the coveted trophy of most chapter attendees in a 200 mile radius and most chapter attendees over 200 miles from DWH-D?
Friday Night Pre-party FEB 24th
Here are the details for the HOG-A-PALOOOZA Friday night pre-party that is 100% sponsored by the Husband and Wife Law team. Also we were able to secure Dixxon to be there to sell their flannels and they are doing a special release to us first that night…. How exciting!!
We will sell out
Scan the QR code in the picture to register.
We are so excited for this event and we hope you are too! Let's do this!"
Lead Road Captain: Ron S.
Departure Briefing: 1:15 pm
Departure Time (KSU): 1:30 pm
Departure Point: Legends H-D, 10434 S, AZ-69, Mayer, AZ 86333
*Prizes not valid on the purchase of a motorcycle.