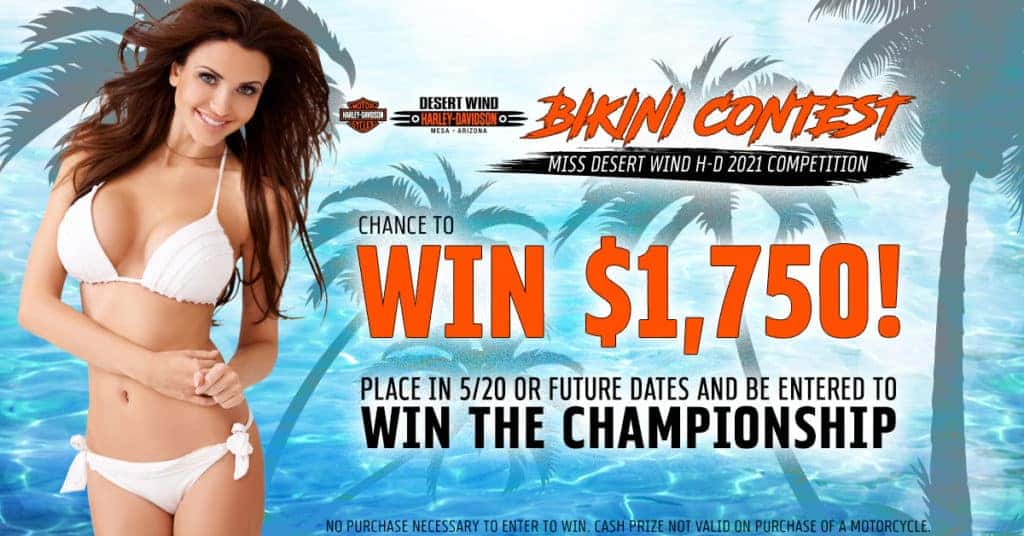 2021 Miss Desert Wind Harley-Davidson
Bikini Competition
Win CASH!
NO ENTRY FEE! FREE TO COMPETE!
We're giving away more cash than ever before! Our bikini contests are empowering and FUN. No experience required–amateurs and pros alike are welcome to compete for a chance to win cash while having a great time with fun group of babes!
---
2021 Dates:
Thurs. June 17th, @ Stars & Stripes Bike Night
Thurs. September 9th, @ Throwback Bike Night – FINALE
---
PRIZES:
Qualifying Bikini Competitions:
1st: $750 CASH
2nd: $500 CASH
3rd: $250 CASH
Top 3 Winners at qualifying competitions guaranteed a spot to compete in the GRAND FINALE.
---
GRAND FINALE:
1st: $1,000 CASH
2nd: $500 CASH
3rd: $250 CASH
Qualify for the Grand Finale by competing in a qualifying competition.
---
APPLY:
If you're selected, you will receive a follow-up from our Event Coordinator with key details.
CONTESTANT SIGNUPS NOW CLOSED, WE'LL SEE YOU NEXT YEAR!
---
Rules and Regulations:
Contestants must be at least 18 years of age. ID required.
Completing online application is to be used as a photo release. Additional photo releases may be required of on-site photographer or dealership.
Placing Top 3 in a qualifying competition will secure a competitor's spot in the Finale
Top 3 who have secured their spot in the Finale are not eligible to compete in other qualifying events.
Contestants may not perform any act of indecency such as revealing or exposing any "private parts". We do support having a fun and wild time, but ask that everyone in the competition keep it clean.
Shoes or some form of footwear must be worn at all times. (heels are NOT required!)
A designated area is available for girls to change in and keep their personal belongings.
You will be judged on how well you present yourself, your personality as well as your stage presence.
Once confirmed as a competitor, dealership Event Coordinator will provide contestants with key details such as check-in time, contest start time, etc.
This competition gives dealership and its partners absolute and irrevocable rights and permission to use any photos, video, audio or any other media of the event, and the use of your name for marketing and advertising in any form available now or in the future. Entrants agree to release and hold harmless dealership, its owners and officers and any vendors, sponsors or associated organizations from any and all liabilities and claims arising from participating in the event.
---
*Cash prizes not valid as discount on the purchase of a new motorcycle.