2020 Harley-Davidson Ultra Limited Chrome in Mesa, AZ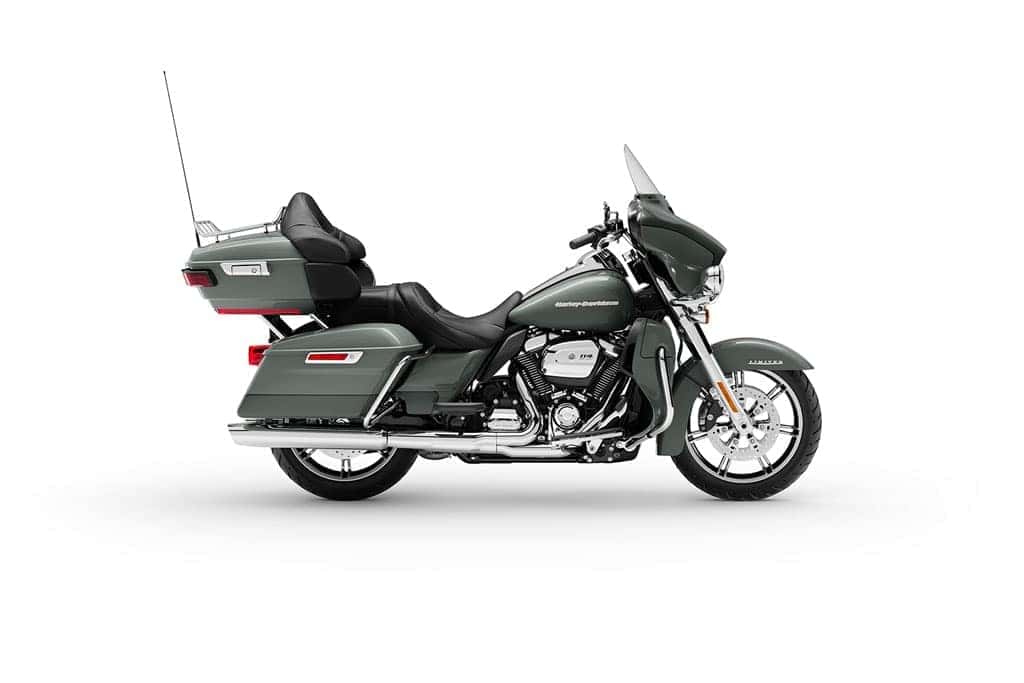 Harley-Davidson has been making its famous motorcycles for over one hundred years. The 2020 Harley-Davidson Ultra Limited Chrome combines rugged Harley style with a brawny twin-cooled Milwaukee-Eight 114 engine. Harley's Ultra Limited Chrome has the power and accessories to make every ride enjoyable. Read on to learn more about the 2020 Harley-Davidson Ultra Limited Chrome.
Paint Options
There are many paint options for the 2020 Harley-Davidson Ultra Limited Chrome. Vivid black is a shiny, true black. Barracuda silver is matte silver. River rock-gray/vivid black is primarily a brown-gray with black accents. A dark blue/matte silver combination is available in midnight blue/barracuda silver. Silver pine/spruce are two shades of muted green. For those that like to stand out in a crowd, Harley-Davidson offers two paint colors: stiletto red and Tahitian teal. Stiletto red is a deep blood red. Tahitian teal is a punchy, tropical blue-green.
Harley-Davidson offers several exclusive colors for the Ultra Limited Chrome. Bikes for peace officers are available in either vivid black or dark blue. Firefighter bikes are available in vivid black or fire engine red. Shrine bikes are available in Arctic white or concord purple.
Styling (Features)
The Ultra Limited Chrome features Slicer II cast aluminum wheels as well as bold chrome mufflers, front fork, and engine. The Ultra Limited Chrome has a batwing fairing and split-stream air vent to lessen head buffeting. The pressure-equalizing vent on the front, opens and closes with the push of a button. Easy-to-open saddlebags and a premium Tour-Pak luggage carrier provide ample room for all your travel necessities. Easily-adjusted heated handgrips provide six settings to keep your hands warm no matter the outside temperature.
The 2020 Ultra Limited Chrome is equipped with the Boom! GTS infotainment system. The Boom! system has an easy-to-use color touchscreen. The Boom! system has a quick startup time, allowing you to get on the road faster. The Boom!'s touchscreen works in wet or dry conditions and with bare or gloved hands. Three simple icons allow you to easily control music, navigation, and phone options. With the optional microphone, you can use your voice to make calls and navigate your playlist. The quick jump feature on the right-hand control allows you easy access to the touchscreen icons.
The Ultra Limited Chrome is equipped with a USB port, keyless ignition, and a security system. Easy-to-read gauges on the display shows range to empty, odometer, and trip distance.
Engine (Power)
The Ultra Limited Chrome is equipped with a powerful Twin-Cooled Milwaukee-Eight 114 engine that puts out 122 pound-feet of torque. Harley-Davidson's cooling tech reduces the radiant heat from the engine, improving rider comfort and fuel efficiency. Anti-lock Reflex Linked Brembo brakes are standard on all Ultra Limited bikes. A six-speed Cruise Drive transmission is standard and cruise control is easy to use via handlebar buttons. High-performance suspension and adjustable rear shocks ensure that every ride is comfortable no matter how long or short.
The Reflex Defensive Rider Systems (RDRS) are optional on the Ultra Limited Chrome. The RDRS improves driver control in emergencies or poor road/weather conditions.