2020 Harley-Davidson Softail Sport Glide in Mesa, AZ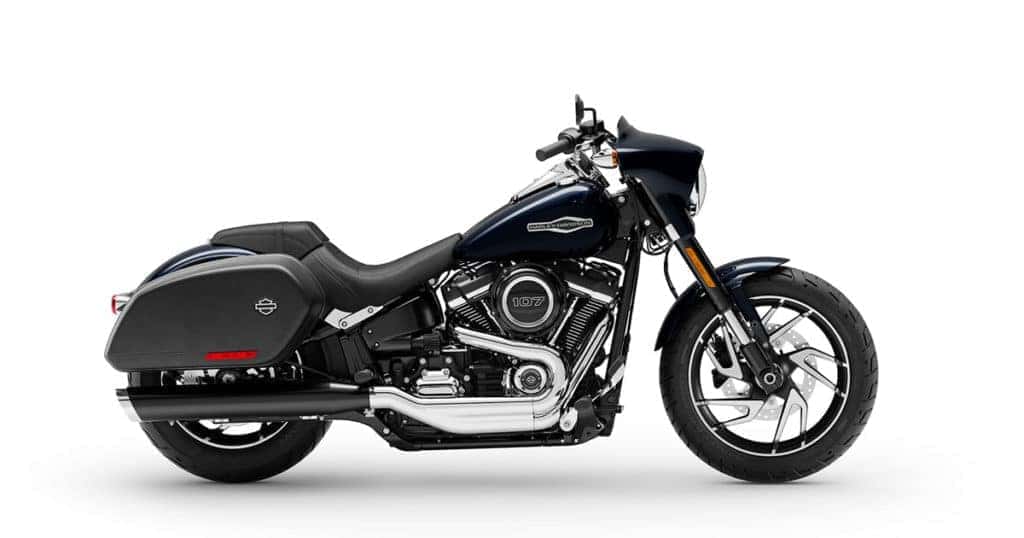 Harley-Davidson has been making their iconic rumbling motorcycles since 1903. The 2020 Softail Sport Glide FLSB features timeless Harley styling, a powerful Milwaukee-Eight engine, and its comfortable frame. Harley-Davidson offers endless options for accessories, allowing you to make your Sport Glide as unique as you are. The Softail Sport Glide can take you across town or the country without missing a beat. Read on to learn more about the 2020 Harley-Davidson Softail Sport Glide.
Paint Options
The 2020 Harley-Davidson Softail Sport Glide is available in a wide range of colors. Color choice changes the look of the fenders, mini-fairing, and fuel tank, while the remainder of the bike is matte black or chrome. Vivid black is a deep, pure black. Two blue shades are available, including midnight blue and blue-green Tahitian teal. For something more muted, check out the rugged river rock gray denim color. If you like brighter colors, Performance orange is the ticket. It is an intense orange-red that you can't miss on the streets. The final option, Scorched orange/silver flux, is a coppery orange with matte silver accents.
Styling (Features)
Sleek styling is the name of the game for the 2020 Harley-Davidson Softail Sport Glide. The Sport Glide features a blacked-out engine, black mufflers, an LED headlamp, and machine highlighted "Mantis" aluminum wheels. The front mini-fairing is detachable. Take the mini-fairing off for short hops around town or leave it on to keep the wind off your chest on longer trips. The Softail Sport Glide has Harley-Davidson's famous Softail frame. The frame is stiff but lightweight to provide a responsive, smooth ride.
The Sport Glide is equipped with an LED forward lighting system, USB port, and keyless ignition. Easy-to-read gauges include a 5-inch analog speedometer with digital gear, odometer, and fuel level. Two lockable and removable hard side cases provide storage space for all your necessities. A security system is standard on all 2020 Harley-Davidson Softail Sport Glides.
Engine (Power)
The Sport Glide is equipped with a Milwaukee-Eight 107 engine that provides 108 pound-feet of torque. The engine features precision cooling technology that reduces the radiated heat coming off the engine. This cooling system promises maximum rider comfort, no matter the road nor weather conditions. The bike comes standard with a six-speed transmission. The single drive chain on the Sport Glide means less engine noise, less vibration when idling, and less maintenance down the road. The Sport Glide's five-gallon gas tank ensures you can cover a lot of road before heading home again.
The Sport Glide offers a smooth, comfortable ride thanks to its high-performance suspension. You can ensure maximum comfort by modifying the handling profile of the suspension to account for extra cargo or passengers. Anti-lock brakes are standard on the Sport Glide. All Sport Glide bikes are equipped with cruise control which is easily engaged using buttons on the handlebars.